High Speed Line Printers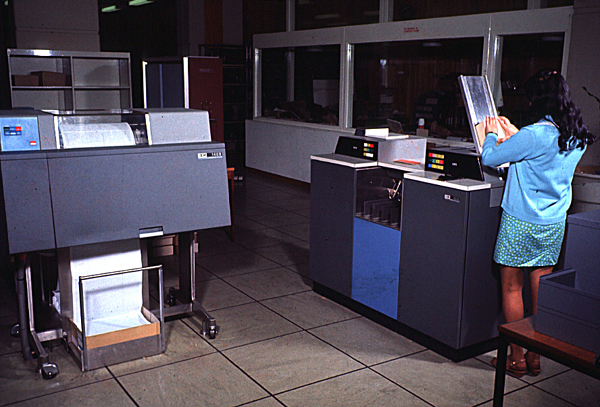 On the right is a Computer Operator loading punch cards in to a card reader,
but on the left is a High Speed Line Printer.
It is an IBM 1403-2 printer that used a printer chain. (Explained later)
It could print 132 character lines at 600 Lines Per Minute. (Ten lines per second).
The paper was 13 5/16" wide and a continuous strip folded every 11".
The lines were printed at 6 lines per inch, giving 66 lines per page.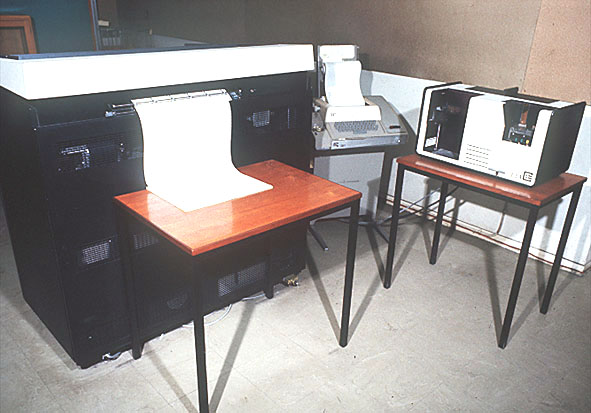 This is a photograph of a Remote Job Entry station.
On the right is a card reader that the jobs were read in and transmitted via a
modem and private wire to a mainframe computer. On the left is a high speed line printer
where output was returned. In between was a TeleType console that operators could control
the devices
This printer used a printer band.
The paper was between an inked ribbon and a bank of hammers.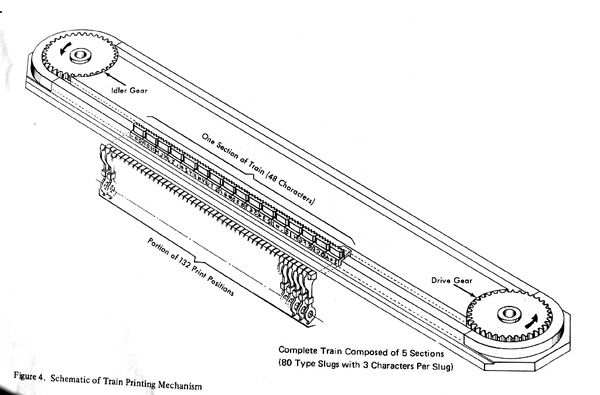 Behind the ribbon was a moving set of print characters.
As a character came past a position where it needed to be printed
the hammer at that position was activated to hit the paper onto the inked ribbon
onto the paper, to hit the moving character.
The diagram above reproduced by permission of IBM,
from the IBM Systems Reference Library document:
"IBM 1403 Printer Component Description" Eleventh Edition (April 1976).
| | | | | |
| --- | --- | --- | --- | --- |
| Mus.Cat. NEWUC:2004.14 | Mnfctr: IBM | Date: 1976 | Order No: GA24-3073-10 | Pages: 28 |
| Comp: Manual | Height: 279 mm | Width: 216 mm | Thickness: 40 mm | Weight: 102 g |
---
There were various types of line printer

That using a shuttle that went from side to side as in
the IBM 1443 Line Printer.

Then one using a print chain
as in the IBM 1403-2 printer.

A printer using a print train was the fastest,
like the IBM 1403-N1 printer.

Later came the print band
as in the Memorex printer.

Another type of printer used a drum.

This is a hammer bank.

This is not a high speed line printer.
Back to Iomedia