Printer Hammer Bank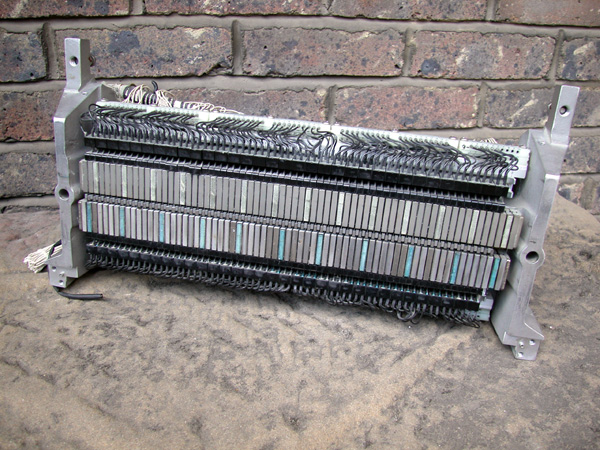 All of the line printers, be they slow or fast, had a bank of hammers.

One hammer for each character position on a row of print output.
This is a hammer bank from a "Model 2410 UL LINE/PRINTER"
made for "Customer: DEC" on "DATE 7-13-73"
we know this because in the rear of the hammer bank
was an "AS-SHIPPED CONFIGURATION INVENTORY".
Therein was "Hammer Bank Assy. No. 231030-1 Serial No. 2418-B"
Provenance like this is rare for computing artifacts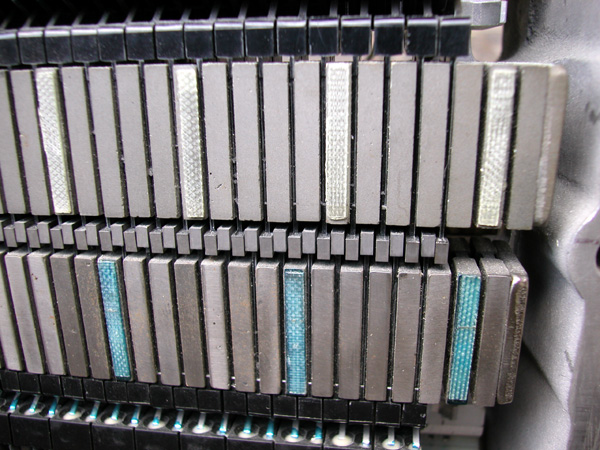 This is a close-up of the hammers.
Actuators are alternately above and below
because they were wider than a print position.
I have no idea of the difference between the white, blue, and grey actuators.
Anybody who knows, please tell me at roger.broughton@ncl.ac.uk
| | | | | |
| --- | --- | --- | --- | --- |
| Mus.Cat. NEWUC:2004.13 | Mnfctr: Data Products Corp | Date: 13.7.1973 | Assy No: 231030-1f | serial No: 2418-B |
| Comp: Hammer Bank | Width: 440 mm | Height: 221 mm | Thickness: 84 mm | Weight: 8.1 g |