8inch Floppy Disk.
| | | | | |
| --- | --- | --- | --- | --- |
| Mus.Cat. NEWUC:2010.42 | Mnfctr: 3M | Date: 1977(circa) | Ser. No: 403291 | Model: - |
| Comp: Floppy Disk | Width: 202 mm | Depth: 202 mm | Height: 2 mm | Weight: 31 g |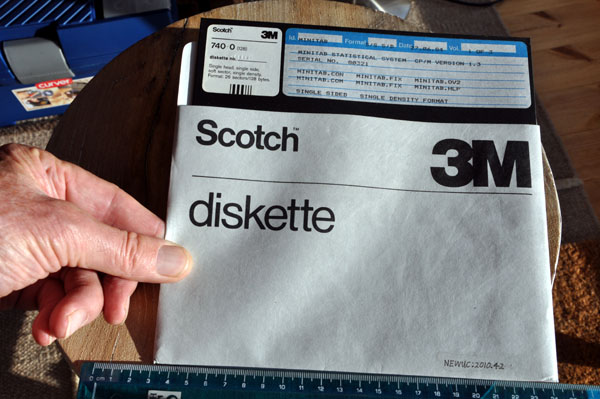 This is the floppy disk in its storage sleeve.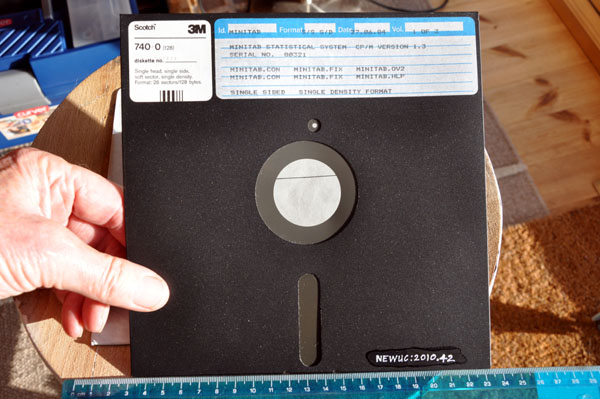 The floppy disk itself was in a sealed container with apertures.
The large hole in the centre was where it was fixed on the drive spindle.
The long aperture below it was where the read/write contacted the disk.
The small hole above is where the index hole is sensed marking the beginning of a track,
the disk has been rotated to align the two.


This is the label on the floppy disk.

The disk is the first of three containing the MINITAB STATISTICAL SYSTEM.
The disk is single sided, single density, which means it is much older than the distribution date 22/06/84.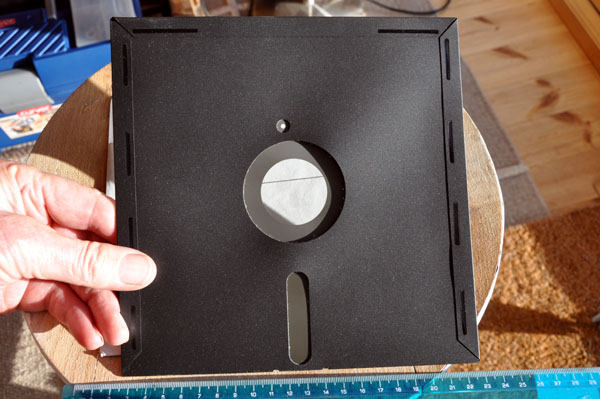 This is the rear of the floppy disk.
It is read only, not writable, as it is missing the write enable notch on the bottom edge.
---
Back to index page.